The story of the Kanjivaram silk saree is intertwined with the history, culture and mythology of South India. The Kanjivaram or Kanchipuram pattu weave dates back 400 years to the small village of Kanchipuram in Tamil Nadu.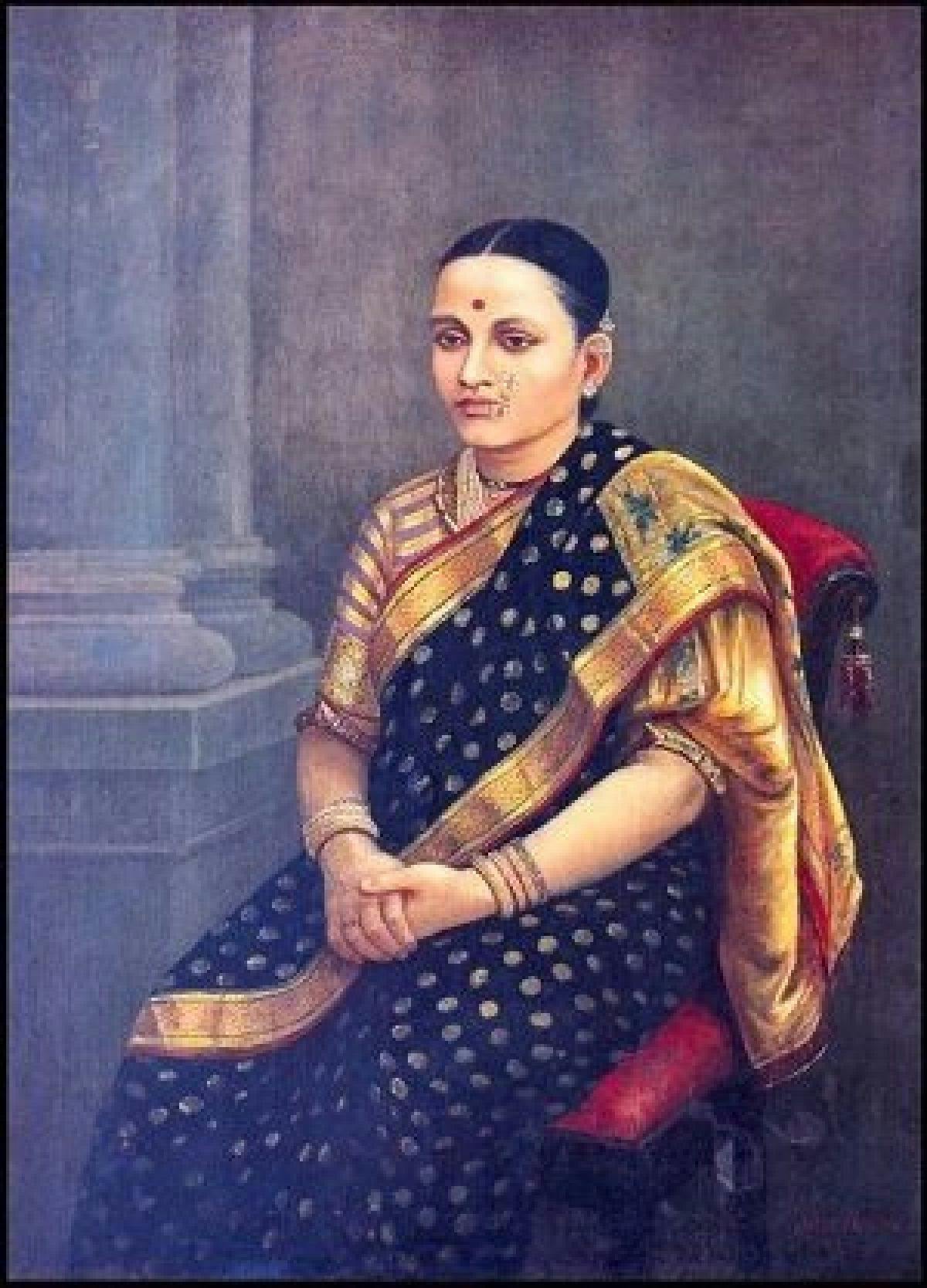 It was the King Krishna Devaraya of the Vijayanagara Empire who patronized the art. It is said that two Andhra communities – the Devangas and the Saligars relocated to Kanchipuram to be able to use their weaving skills in bettering the craft.
Even in 2020, the craze for the Kanjivaram silk saree has not diminished a bit.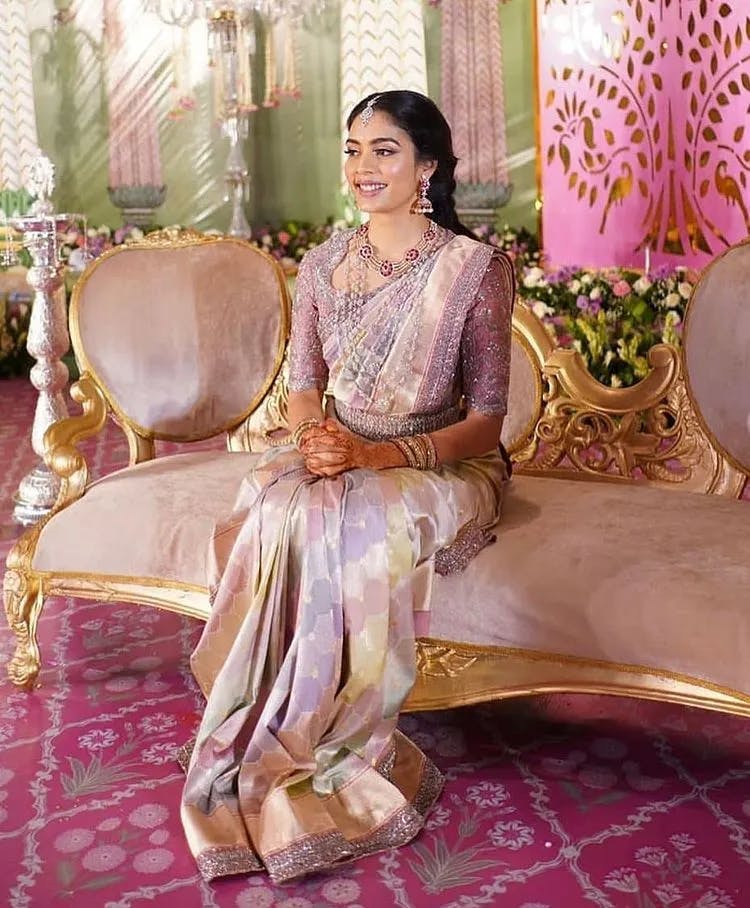 Pastels can be perfectly defined as a colour tone that doesn't need to scream to be heard. The subtle hues of pastel shades are fast replacing the bright, jarring colours because of their sheer elegance. In recent times, we have observed a major shift in the choice of colour palettes at our Indian weddings and they all point to pastels. No, it's not just wedding guests and bridesmaids but even the brides themselves who sport various shades of ivory, mint, and coral shades for their weddings.
When it comes to accessorising, both cool toned and warm toned jewellery work like magic with this palette. Hence, white gold, platinum, diamonds, emeralds and antique jewellery alike go so well together with pastel shades!
Here's a look-book we've put together just for you so you know exactly how to wear this dreamy shade right!
Pastel Blue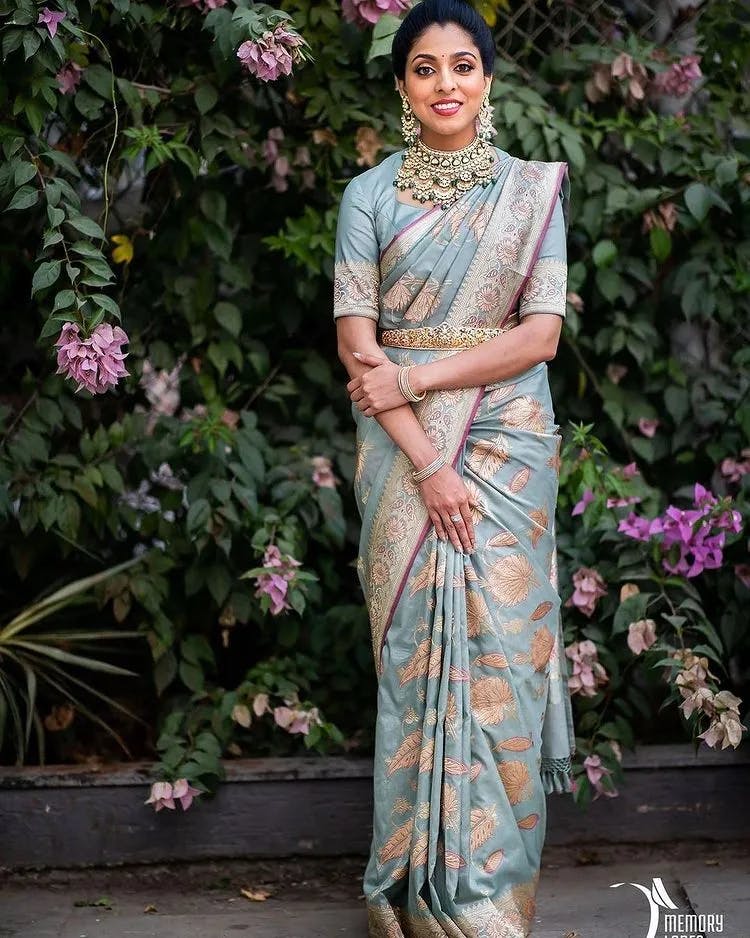 It is not every day that one would prefer wearing a pastel blue kanjivaram saree for their wedding. But blue hue from ice blue to powder blue looks stunning in the kanjeevaram collection. The pastel blue gives cool vibes and looks good with a matching or contrasting blouse.  
Pastel Yellow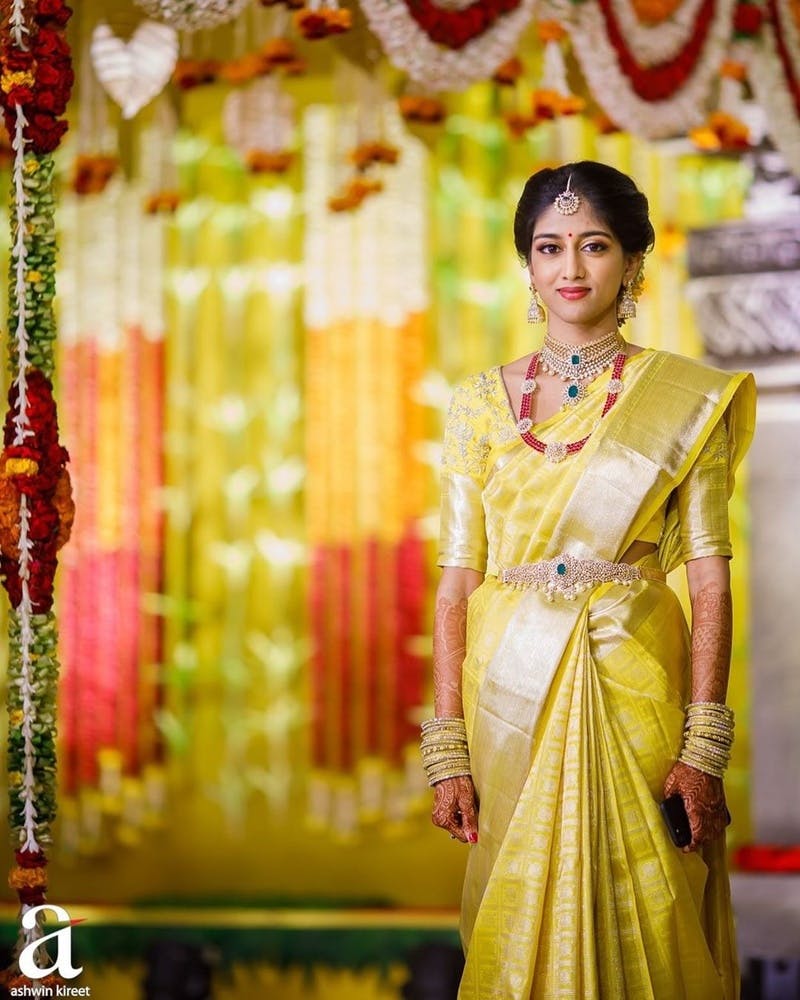 Pastel yellow or a golden tinted yellow is a ground-breaking color in the kanjeevaram sarees. It is so fresh and vibrant! If you are a bride-to-be, then a pastel yellow kanjivaram saree is sure to make your look fun and radiant. Add a dash of contrasting colors with your jewellery and makeup.
Pastel Pink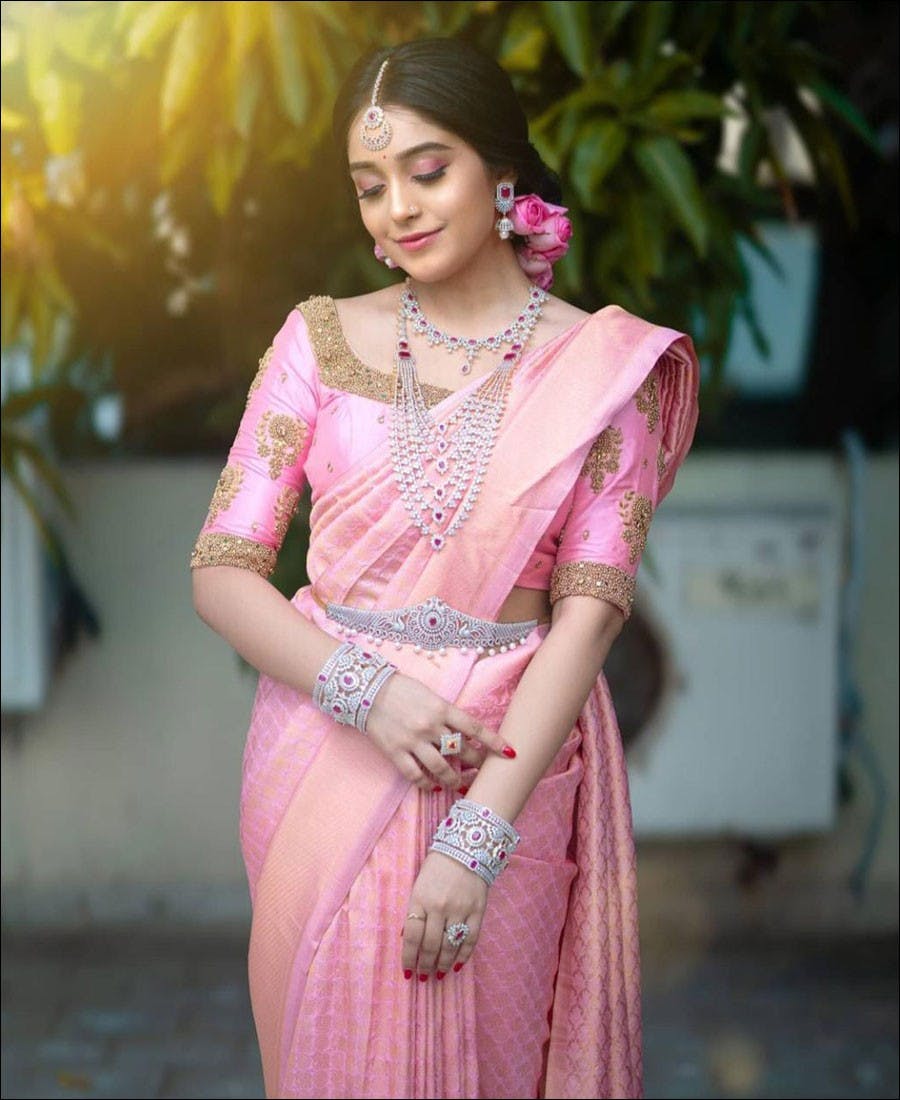 From baby pink to powder pink, the hues are so refreshing and suit literally every skin-tone! Ditch the usual bright pink kanjivaram for a pastel one and you won't regret it. Pastel pinks are perfect for both day events to weddings. Moreover, they have a charm that makes you outshine in the crowd without putting much effort.
Silver-Grey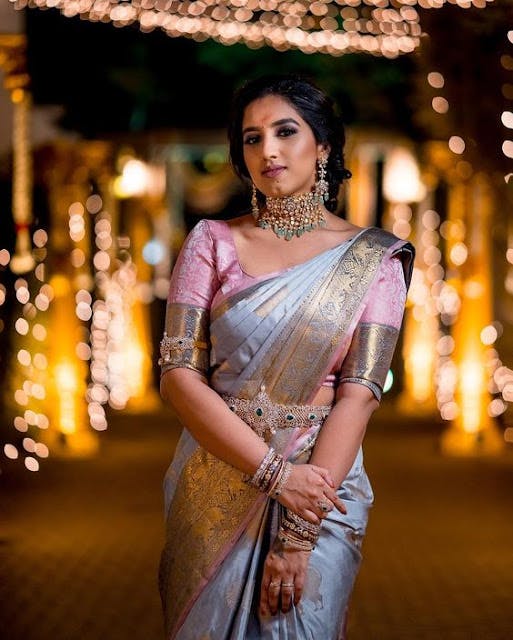 Silver sarees are so underrated! This gorgeous color in kanjeevaram is beyond charismatic and is enchanting. They look beautiful with silver on silver zari as well as with golden zari. Also, a grey/silver kanjivaram saree suits every skin-tone! And it can be easily matched with any contrast colored blouse.
Pastel Peach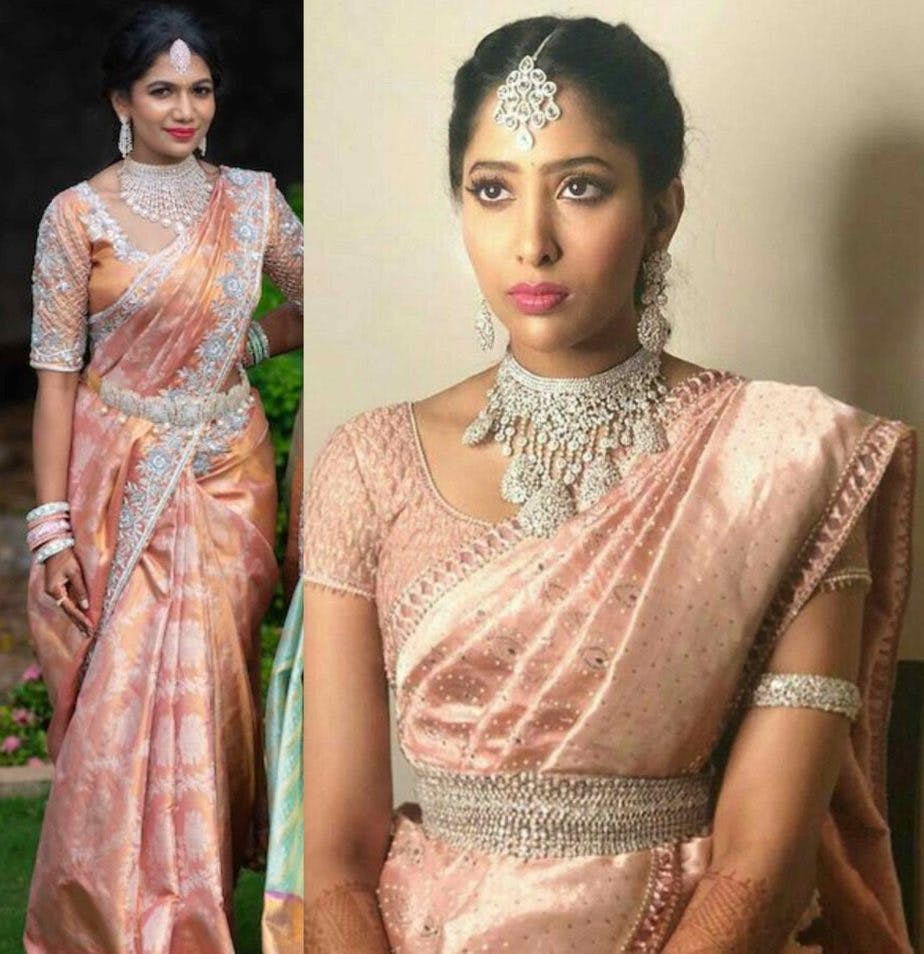 Nothing to capture the soothing mood of a soft and mild pastel shade of peach. This shade oozes femininity and elegance and has gained popularity in recent times. This unconventional color hue is a morning color and ideal for indoor-outdoor ceremonies.
Lavender / Lilac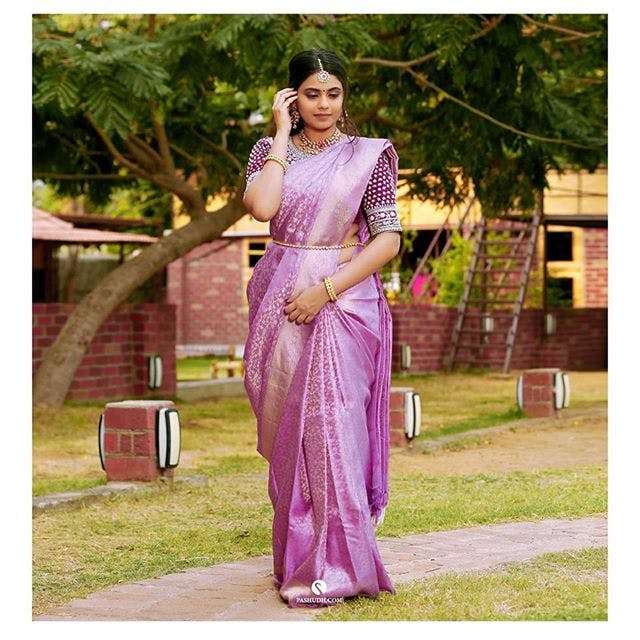 The dainty romantic lilac or pastel lavender is a stunning shade to have in a Kanjivaram saree. Believe us when we tell you that the pastel lavender is the new offbeat color for every bride this season. The color is fresh, glamorous and stylish at the same time!
Ivory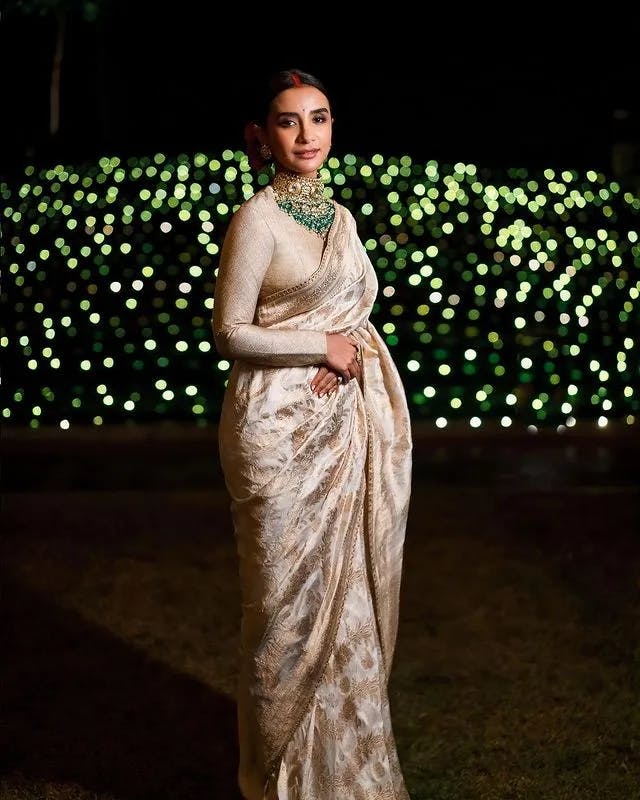 Ivory is the shade of white with a subtle yellow undertone and is one of the most trending colors this season. Many celebrities have already flaunted an ivory kanjivaram saree and looked stunning! Both silver and golden zari border look amazing on the Ivory kanjivaram sarees.